How to Join
To be eligible for membership in the Benevolent and Protective Order of Elks, you must be a citizen of the United States over the age of 21 who believes in God.
You must be sponsored by a member of the Elks Lodge and reside in the jurisdiction of the Lodge you wish to join. You also need two other Elks who will be your co-sponsors. The Elk who proposes you for membership must obtain a Membership Application from the Lodge Secretary, or you can begin the process online at http://join.elks.org. 
After your proposer fills in the required portion, you will be given the Application for Membership. Fill it in, following the instructions and answering all questions. Return the completed application to the Lodge Secretary.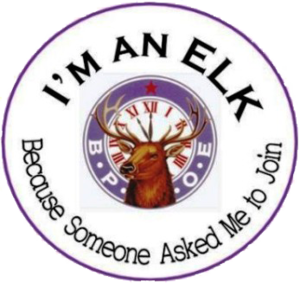 Your application will be read at a regular Lodge meeting. It will then be forwarded to the Investigating Committee, who will call you and set up a time for you and your sponsor to meet with the committee so that they can interview you.
After the interview is concluded, the committee will report to the Lodge concerning your membership. The members will be given a notice not less than 10 days nor more than two months before the vote will be taken.
When the vote is concluded, you will be notified and asked to present yourself and your spouse for indoctrination. During indoctrination, you will learn more about the Order's programs and charities. You will also be told during the program the date you will be initiated.
After initiation as an Elk, you can take part in all meetings and social functions of the Lodge.
If for any reason your application is rejected, you can submit a new application for membership after six months from the date of rejection.
Elks.org Online User Account
If you are already a member of the Elks (our Lodge or another), you may create an account on Elks.org, the national website of the Benevolent and Protective Order of Elks.
An Elks.org account will grant you access to many members-only items, including the Local Lodge and Grand Lodge newsletters, a message board for members nationwide, and registration access for the annual national convention in July.
For more information on the Elks.org account setup process, please visit this page, read the terms and conditions, and click continue at the bottom of the page.